How To Build A Shed
How To Build A Shed           

A garden shed is ideal for storing gardening equipment, tools, or can even be used as a workshop if you decide to be a little more adventurous.It may feel a little overpowering at first,learning how to build a shed but if you plan everything correctly it should run quite smoothly even for a novice.
There are two main types of shed available.A shed with a sloping roof, which usually has doors to the side & the other type of shed has a roof similar to the roof on your house called an apex,these shed's usually have a door at the end.
You need to take a few things into consideration before starting work.Do you know how to build a shed properly & how big will the shed be ? you  want it to compliment your garden,not overpower it.Do you need power & water ? think about how you will get these services to the building.Is natural light needed ? make sure the window is facing the correct way to maximise light. Decide the best position – it needs to be far enough away from fences,trees etc. as you will need access to all sides in future years to carry out maintenance. A good tip is to mark out on the ground a rough guide where your thinking of building,then take a look from an upstairs window,as this will give you a more panoramic view.Are there any underground cables or pipes where your digging the base ? if unsure it's best to seek advice.Once your happy with the position,you need to begin work on the base.So,how to build a shed base ? this can either be  solid concrete,or paving slabs.
Concrete Base
Ideally the concrete base should be around 3″ (75mm) deep, with 3″ (75mm) compacted hardcore beneath.Mark out the area to be dug using pegs in each corner with string tied to all four pegs as a guide.If the concrete base is to finish level with the ground you will need to dig 6″ (150mm) to accommodate the hardcore & concrete.Remove the pegs & level the area,you may need to create a timber frame using 6″ (150mm) timber to the size of the base,which can be levelled using a spirit level.It is important to have your base level, as you may find problems later when putting the shed sections together.
A ratio of  5 parts ballast to 1 part cement is needed ,mixed together with water slowly added to it until it has a thick,slightly runny consistency.It should then be spread quickly & evenly in the framework & levelled using a straight edge sitting on the framework.
Paving Slab Base
Mark out area as above,although this time you only need to dig approx. 3″ (75mm) deep.Rake the area & level.Mix 7-8 parts sand with 1 part cement & mix (do NOT add water) spread the mixture evenly over the area to a depth of approx. 1 3/4″ -  2″ (45mm – 50mm) & rake level.Start at one end lay the slabs one at a time,checking each one is level by gently tapping down with a mallet & checking with a spirit level.Once all slabs are down,check for levels again.Don't worry about your dry concrete mix as this will naturally set with the damp night air over time.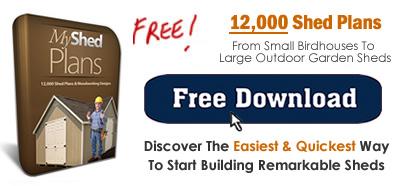 Constructing Your Shed
Once your base is in position & levelled,you can start erecting you shed.Wood is the preferred choice for most people as it blends into the surroundings better,especially after a few years,when it has weathered.It can also be stained to suit your garden colours.
Mark  centre lines on the floor across the length & width & at the base of the sides & ends,this is so they will all match up as you go along.Lift the back end onto the floor & centre,using the lines you marked earlier as a guide.Prop the end up,using some scrap timber.Now lift one of the side panels into position & centre as before.They can now be screwed or bolted together,through the battens which meet in the corner.Repeat the process for the other side & front.Having made sure all sides & ends are securely fastened,they can be secured to the floor.
Next job is fixing the roof panels.As before,mark centre lines on the panels then match them up with the centre lines on your framework,fix with nails or screws.To protect the roof,you will need to felt it.Cut 3 pieces of felt approx. 6″ (150mm) longer than the length of your roof.Lay the first piece of felt on the roof overhanging the apex (the point at the top)by approx. 4″. Secure the felt with felt nails approx. 6″ (150mm) apart.Either end should have an overhang of felt,so gently fold this down & nail along the edge of the roof panels.Repeat the process on the other side with the second piece of felt.The 3rd piece needs to be positioned on the centre of the roof,& closely nailed along either end.Cut off any excess felt & secure fascia boards to the front & back to cover nails on edge of roof panel.
That only leaves fitting the door & window,which are fairly straightforward.A piece of pre cut perspex should have been supplied with your shed,so it is a case of simply fitting in position & securing with beading that should also have come supplied.The door should fit perfectly if you have everything level & square.If not,you may have to plane the edges of the door to make it fit.
Please not this guide is for a small to medium type shed.If you have a larger shed,the basics are pretty much the same,although the base & framework may be a little heavier.
DESIGNING YOUR OWN SHED
All this information is fine,but what if you want to design & build your own shed  & have you thought about the impact on the environment by purchasing a shed which has been made with wood from another Country,how green is your shed?
First you will need a good set of plans to work to.These are  important as they give all dimensions for the build & will show you how to build a shed properly  & also help with the layout.You will need to calculate how much timber to need, & add around 10% for wastage.Treated timber is always best to buy if possible,it will cost more initially but will pay for itself over the years as  it will require less maintenance.
Tongue & groove, sometimes known as feather & groove(floorboards) can be used for the walls as the design of the boards mean they lock together giving a rigid finish.Shiplap boards are similar except they have a rebate at the bottom of the board enabling them to overlap,they also have a shaped top making them more pleasing to the eye.Now you need to mark out & cut all your timber according to your plans,make each side & end seperately,then assemble your garden shed as in the guide above.